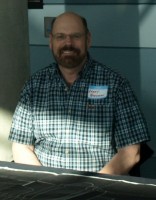 Larry Kerecman at City Park Alliance open house - 2008
Having worked on the Electric Fountain project since 2004 I have come to realize the unique role that the fountain played in the leisure life of Denver residents over the years.
One visitor told me that her family couldn't afford to go to the movies during the Great Depression so they would pack a picnic dinner and go to the park to hear the band play and watch the fountain perform.
Times have changed a lot since then but the one of the most rewarding things for me is to watch families coming back to City Park at night to walk around the lake and watch the fountain. And it isn't just the older people who remember the 1908 fountain. I've delighted to see many groups of people in their late teens and early 20s taking a break from texting or their iPhones for a few minutes to watch the fountain.
I'm looking forward to an exciting new season for the fountain this year and plan some great new fountain shows that will jazz things up a bit more. This was in the works for last year but the lightning strike cut the 2009 fountain season woefully short.
Some of the water features and lights that were added at the end of 2008, after the main season was over, have still not been fully integrated into the fountain shows seen by the public. The Peacock fan and the Ribbon have lighting that was not part of the original fountain.
Join us over the Memorial Day weekend to see what's new! And if you see a tall bearded guy wearing a baseball cap and pondering the fountain show with great intensity, come say "Hi" to me!